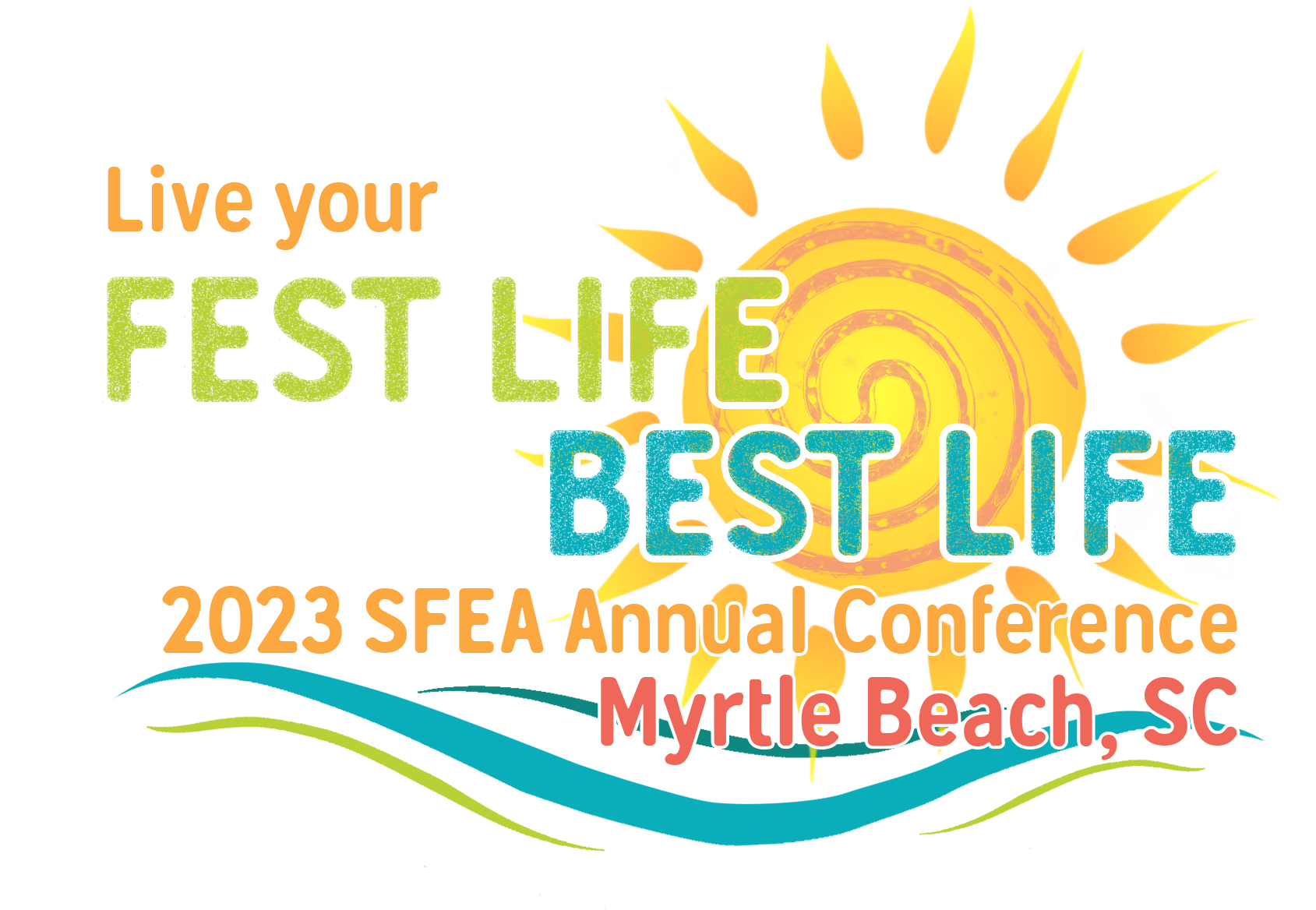 Come join us in Myrtle Beach, SC, for Live Your Fest Life, Best Life – 2+ days of education, networking, and idea sharing, with a healthy dose of music, fun, and memories thrown in!
We're excited to announce our keynote by Rachel Cooke of Lead Above Noise – Leading Through Uncertainty and Change. Other speakers include: Danielle Hernandez, Wright Tilley, Greg Fuson, Michael Bleau, Bill Frey, Julie Beck, Haley Tinkle, and Spencer Ingle.
We'll also have:
*11+ hours of pure educational content
*4-5 hours of musical showcase presentations
*~3 hours of dedicated tradeshow time
*~12 hours of socials and networking time
*The Kaleidoscope Awards Gala
*Discounts on local experiences for your time in Myrtle Beach outside of the conference (so come early or stay a little longer!)
More information will be coming soon! But lock in your spot now – prices go up after January 15th!
Vendors – make sure to apply through the Exhibitor section (don't buy just a regular ticket)! General attendees can just purchase the ticket appropriate to their situation. And announcing, for the first time – SINGLE DAY ATTENDANCE TICKETS!
***********************
Apply for the 2023 Kaleidoscope Awards today!
Check out the categories and apply for the 2023 Kaleidoscope Awards. The deadline for application is February 1, 2023 at 11:59pm, so get those apps in!
If you've ever thought about applying, but haven't, here is a testimonial from one of our past winners about why awards matter and what a difference they can make for the future of your festival or event:
"It was a dream come true to receive a call from Frito-Lay after they simply Googled 'Award-winning festivals of the south' and at the top of that list was the SFEA Kaleidoscope Best Festival over 75K – Jekyll Island Shrimp & Grits Festival." – Nancy K. R., Jekyll Island Authority
You don't need to be a member to apply, but you do need to be present to win in the following categories: Best Festival or Event Over/Under $75k in Budget; Best New Event; Event Professional of the Year; Diversity, Equity, and Inclusion Initiative Award; Green Initiative Award
***********************
Other Conference links:
Conference schedule          Exhibitor Layout Map          Silent Auction Donation Form          Swag Swap Donation Form
Speaker Application          Showcase Application          Vendor Special Request Form
***********************
General Session Information
Keynote: Leading Through Uncertainty & Change – Rachel Cooke of Lead Above Noise and the Modern Mentor podcast
Plenary talk: Event Safety – Danielle Hernandez of the Event Safety Alliance
Plenary talk: The "Fun"damentals of Leadership – Julie Beck of NCAFE
Breakout workshops & case studies:
Maintaining Purpose, Clarity, and Alignment (2 parts) – Rachel Cooke
Optimal Vendor Layout (2 parts) – Michael Bleau of EventHub
Kids Activities at Your Event (Interactive)
Breakout talks:
Building Events for Communities – Wright Tilley
Supply Chain Challenges – Wright Tilley
Measuring & Merchandising the Impact of Your Festival – Greg Fuson of ChandlerThinks
Crisis Planning & Communication – Danielle Hernandez of the Event Safety Alliance
Lighting Design & Safety – Bill Frey of Illuminating Design
Private/Public Partnerships & Successful Events – Haley Tinkle of Downtown Jacksonville Art Walk
How to Increase Event Revenue Through Sponsorships – Spencer Ingle of Eventeny
Panel Discussions:
Municipality/Vendor Relations
How to Create Award-Winning Festivals and Write Winning Applications